Depending on where you live, there will be a
total lunar eclipse
on
February 20
with full visibility in Central America, South America and most of North America, except for only a partial eclipse visible in the western third of the USA and Canada.
This
corresponds to February 21
and full visibility in Europe, parts of Africa, with partial visibility in Africa and Central Asia.
No part of the eclipse can be seen in the Far East.
Here is a lunar eclipse graphic (not of this eclipse) linked from
RTL's wetter.de
, where the weather report tells us that it is strongly overcast now and into the night so that it is doubtful that the eclipse will be visible here at our location.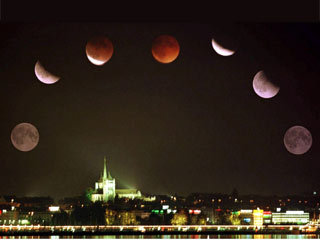 Mid-eclipse is 10:26 p.m.
EST
(Eastern Standard Time), February 20, 2008
which corresponds to 3:26 a.m.
GMT
(Greenwich Mean Time), February 21, 2008.
For our location in Germany, this means 4:26 a.m. Given the weather and the hour, we are likely to miss seeing this particular lunar eclipse.
See the
NASA website
for details of the eclipse and for more eclipse information.
Update:

1 Eclipse Video and 1 Video about Eclipses
Eclipse Videos (
hat tip to Mahalo
):
YouTube - February 20/21, 2008 Lunar Eclipse (like a performance)
LiveVideo (AP) - Explanation of a Lunar Eclipse (very good)